City of Edinburgh Announces Renaming of Civic Square in Memory of McCrae's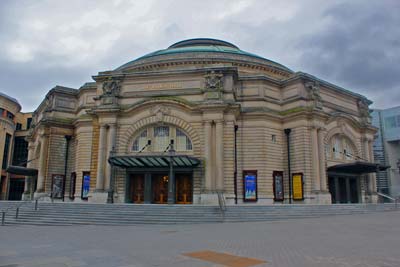 One of the most momentous nights in Edinburgh's long and romantic history will finally be marked after almost a century. Veterans of the 16th Royal Scots tried for many years to have the battalion commemorated by the city, but their efforts always fell on deaf ears. Now, one hundred years after Sir George McCrae launched his recruiting campaign, the area directly outside the Usher Hall is to be renamed McCrae's Place.
On the evening of Friday 27 November 1914 a crowd of almost three thousand packed the recently opened concert venue to hear Sir George deliver his famous speech:
I stand before you humbly as a fellow Scot. Nothing more and nothing less. You know I don't speak easily of crisis, but that is what confronts us. I have received permission from the War Office to raise a new battalion for active service. It is my intention that this unit will reflect accurately all the many classes in this famous capital and that it will be characterised by such a spirit of simple excellence that the rest of Lord Kitchener's Army will be judged by our standard. Furthermore, with the agreement of the authorities, I have undertaken to lead the battalion in the field. I would not – I could not – ask you to serve unless I share the danger at your side. In a moment I will walk down to Castle Street and set my name to the list of volunteers. Who will join me?
The name of the new square was suggested by Jack Alexander. McCrae's refers both to the battalion's familiar name and (singularly) to the Colonel – setting right two old wrongs. Many of Sir George's lesser contemporaries had streets or districts named after them, but until now he's been overlooked. His service to Edinburgh spanned six decades of selfless commitment and steady achievement – particularly during his eight-year spell as treasurer, when he consolidated the city debt, funded the replacement of the North Bridge, financed the acquisition of the municipal tramway network and installed electric street lighting. It was once said of Sir George that he personally delivered the old town kicking and screaming into the 20th century. It's not only for his military career that he deserves to be remembered.
McCrae's Place will occupy sections of Grindlay Street and Cambridge Street, directly in front of the Usher Hall. The initiative is the product of discussions that took place in Contalmaison between Jack Alexander and Edinburgh's Lord Provost, Donald Wilson, who put the proposal to the Planning Committee and helped to ensure it was approved. As the Lord Provost told the press: "One hundred years after the start of the First World War, it seemed both significant and appropriate to do it."
We couldn't have put it better ourselves.