The Contalmaison Cairn
In great deeds something abides. On great fields something stays. Forms change and pass; bodies disappear; but spirits linger, to consecrate the ground. And reverent men and women from afar, and generations that know us not and that we know not, drawn to see where and by whom great things were suffered and done for them, shall come to this deathless field to ponder and dream.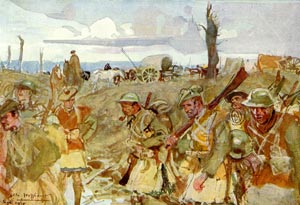 THESE STRIKING WORDS were written in 1889 by Joshua Lawrence Chamberlain, late colonel of the 20th Maine, whose gallant conduct during the Battle of Gettysburg has often been credited with saving the Union. They are perhaps the most articulate expression we have of the pride of a commanding officer in the deeds of his comrades – and of the heartfelt hope that those deeds will never be forgotten.
Mametz Wood is a dark, forbidding wilderness that is impossible to approach without the sinister feeling that one is being watched. The machine-guns are silent but the ghosts of the young Saxons and Bavarians who once manned them remain. Spirits do indeed linger on the Somme; entire battalions consecrate the ground, their white Portland headstones a humbling reminder of an earlier generation's astonishing capacity for self-sacrifice.
A five-minute drive from Mametz brings you to the village of Contalmaison – until recently a quiet, rural backwater, largely ignored by battlefield tour buses passing through the narrow roads en route to better-known villages such as Thiepval or Beaumont Hamel.
Today Contalmaison is a vibrant Scottish thistle, standing proud amid the countless poppies that flourish among the neighbouring fields. On 1 July 1916 those fields were assaulted by the 34th Division of the British Expeditionary Force. In their vanguard was an Edinburgh unit led by Lieutenant-Colonel Sir George McCrae. Assembled from a motley band of professional footballers and other sportsmen, "McCrae's" was considered by some contemporaries to be the finest battalion in Lord Kitchener's volunteer armies. Sir George's all-conquering football team, made up mainly of star players from Heart of Midlothian, Raith Rovers and Falkirk, gave the battalion an added glamour that no other unit could match.
Machine-guns make no allowance for celebrity and on that dreadful morning three-quarters of the rifle strength was lost – including three Heart of Midlothian players. Within a few decades their sacrifice had been largely forgotten, save for the memories of a dwindling number of elderly survivors. In great deeds, though, something does abide: it worries away at you, demanding to be acknowledged.
And so in 2004 – after nearly 90 years of neglect – a handsome commemorative cairn was raised in Contalmaison in memory of McCrae's. Constructed by Scottish craftsmen using Scottish materials, the Contalmaison Cairn has become a centre for Scottish pilgrimage on the Somme and a magnet for visitors from every country on the globe.