Living in a Brewery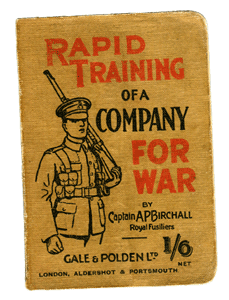 Mother, dinna fash yersel',
Father mind yir fury.
Yir darlin son's a sodger now,
An livin' in a brewery!
Translation:
Mother, pray do not allow yourself to become unduly disconcerted.
Father, pray retain control of your emotions.
Your dear son has enlisted in the military
And is presently content!
(Unidentified 16th Royal Scot, January 1915)
McCRAE'S BATTALION was mobilised in Edinburgh on 15 December 1914. A consignment of scarce khaki cloth was conveniently 'liberated' from St Leonard's goods yard the following day and on Christmas Morning every officer and man was able to march out in full uniform. Rifles, boots and '1914 Pattern' leather equipment quickly followed. Sir George's quartermaster section was already gaining a deserved reputation for resourcefulness in the face of adversity.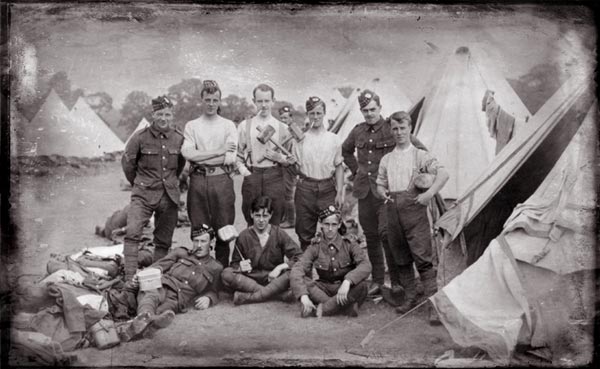 While other units shivered in draughty tents, the battalion – now officially designated the 16th Royal Scots – was billeted in the cosy Examination Hall of George Heriot's School. An overflow of 400 men lived in the abandoned Castle Brewery, next door. Their initial training in drill and musketry was augmented by countless gruelling route marches around the Lothians and Lanarkshire countryside, led by Regimental Sergeant-Major Fred Muir, a Musselburgh coal miner who in 1908 had bought himself out of the Regular Army after four years in the ranks of the Gordon Highlanders.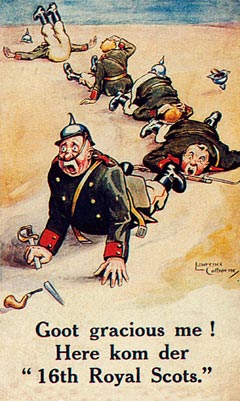 In line with War Office regulations, the battalion was divided into four companies – A, B, C and D. The first of these was made up of white collar employees of the city's many banks and insurance companies – along with students from Edinburgh University, Heriot-Watt Training College and Edinburgh's Higher Grade schools, both private and municipal. B Company was made up of time-served tradesmen, particularly employees of Edinburgh's renowned printing and publishing concerns. C Company was the 'Sportsmens' or 'Hearts' Company, identified on their enlistment forms by volunteers who hoped to serve beside their sporting heroes. Not surprisingly, it was oversubscribed. D Company was something of a hybrid, but included men from the county areas around Edinburgh – most notably entire platoons from the paper-making town of Penicuik and the linen manufacturing town of Dunfermline.
On 18 June 1915 the battalion left Edinburgh to continue their training in camp at Ripon. More marching, musketry and manoeuvres. The entire city (or so it seemed) turned out to see them off from Waverley Station. In September they moved to Salisbury Plain, where they became part of 34th Division, under the benevolent command of Major-General Edward Charles Ingouville-Williams, better known to all ranks as 'Inky Bill'.
On 18 December sun helmets were issued – along with baggy shorts and tropical equipment. The battalion was told it was bound for Egypt. A week later the issue was hurriedly recalled. Their new destination was France.