McCrae's Battalion Trust – Make a Donation
McCrae's Battalion Trust was launched in 2006.
It is registered as a Scottish educational charity – Number SC 037303.
If you've explored the site and got this far, you'll already have a pretty good idea of what we've been up to during the past decade. We've taken a story that had been indefensibly forgotten and brought it back to the forefront of the public consciousness.
In so doing, we've involved every age group (from 5 to 105) and created a new tradition of Remembrance quite unlike anything you'll find elsewhere. Someone said recently that we're a bit like a modern re-incarnation of the 16th Royal Scots veterans association – an ever-expanding battalion of friends, bound together by the common (or perhaps that should be 'uncommon') memory of the lads of McCrae's.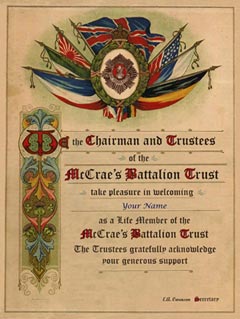 We would be delighted if you choose to join us. You'll get a handsome certificate if you do – complete with your own regimental number!) But, if you'd prefer simply to make a personal donation, we will welcome that, too.
You can donate any amount from one pound to several million. Your contribution towards the work of McCrae's Battalion Trust is much appreciated.
Thank you!
Please fill in your contact details if you would like an acknowledgement of your donation by email. The information you supply will be kept in the strictest confidence and will never be shared with any third party.