Become a Member of McCrae's Battalion Trust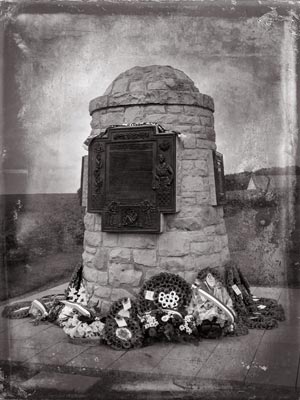 The McCrae's Battalion Trust is the world's first registered charity to be inspired by the sacrifice of an infantry battalion of the Great War. It was established to ensure the long-term care and maintenance of the Contalmaison Cairn and its associated commemorative works. An educational purpose was also incorporated into the Deed of Trust to ensure that the story of Sir George and his wonderful battalion would not be forgotten for a second time. In this connection we are committed to holding an annual ceremony of Remembrance in the village. This event has already become one of the best-attended on the old Western Front and Contalmaison is now firmly established as an important centre of Great War pilgrimage and remembrance.
Download your application pack here:
In 2012 we completed Phase Two of the Contalmaison Project – the installation of a map of the area as it was in 1916 – cast in bronze and mounted on a four-foot-square block of Clashach sandstone – the same material that we chose for the Cairn. As we move towards a series of First World War centenaries, the Trust faces a number of substantial challenges. We are therefore inviting individuals, families, companies and other organisations to assist us by becoming Members of the McCrae's Battalion Trust.
Your support will help us:
To purchase the land beside the Cairn in order to safeguard the integrity of the site.
To create a Garden of Remembrance as a haven of reflection for visitors to Contalmaison.
To commission the village to care for our memorials and the surrounding site – in the same dedicated manner that the Commonwealth War Graves Commission care for their cemeteries.
To fund the placing of signposts at every relevant road junction to guide visitors to the Cairn.
To subsidise the annual cost of taking sixth-year students, veterans and wounded soldiers from today's army to the annual Contalmaison ceremony – maintaining our strong relationship with the Royal Scots Association, local schools, the Personnel Recovery Unit, the Army Benevolent Fund, The Royal Regiment of Scotland and the City of Edinburgh.
To develop our website to enable Trust Members and the general public to access up-to-date information on all aspects of the Trust's activities – such as the annual pilgrimage, educational initiatives for schools, commemorative events, Remembrance Sunday, the Heart of Midlothian War Memorial, battlefield tours, hotels and travel arrangements.

In 1914 Sir George McCrae asked the young men of Edinburgh to enlist in his battalion. They responded magnificently. Today we ask you to maintain that tradition by 'joining up' in any of the categories listed on the attached membership form. In return you'll receive a handsome personalised membership certificate with your own McCrae's regimental number.
Thank you!