Perseverance and Permanence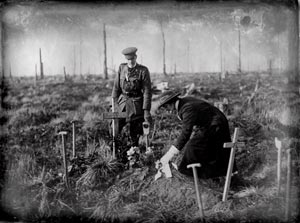 FOR FRANCE AND BELGIUM the Armistice of November 1918 brought an end to hostilities and ushered in a period of frantic reconstruction. Up and down the old Western Front shell-holes and trench lines were filled in, villages rebuilt, and no man's land became farmland once again. Battlefield burial plots were transformed into military cemeteries under the benevolent control of the Imperial War Graves Commission. Grand memorials to the 'Missing' were designed and individual units purchased plots for their own (less ambitious) commemorative projects. Battlefield 'pilgrimages' became popular as veterans sought out the spot where a pal – or, perhaps, an entire battalion – disappeared.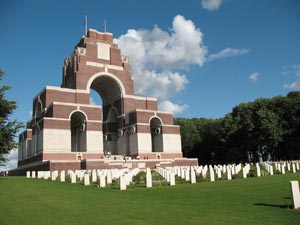 At 10.35 a.m. on 1 July 1916 2/Lt George Russell of the 16th Royal Scots arrived at his objective below the fortified ruins of Contalmaison. 'Leith Fort' and 'Edinburgh Castle' were two minor strongpoints in the enemy's 'Quadrangle' support line. Russell had come a mile and a half in three hours, fighting his way steadily through the German trenches. He had 30 men left to occupy a front of 150 yards, so he consolidated his position (which was untenable) and set off up the hill in order to ascertain the strength of opposition in the village. He was killed shortly afterwards and what remained of his command was beaten back towards Scots Redoubt.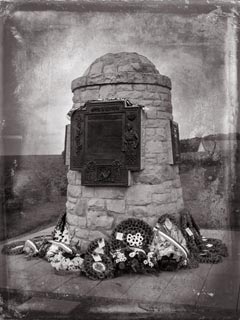 In 1920 survivors of McCrae's Battalion proposed the construction of a traditional Scottish cairn in Contalmaison to commemorate the terrible sacrifice of 1 July. They were not wealthy and the scheme foundered for want of financial support from Edinburgh Corporation. The post-war period in Scotland was one of great fiscal hardship, so perhaps we should not judge the good councillors too harshly.
Eighty-three years later those proposals were resurrected and in 2004 the last of the original Great War memorial projects was finally completed.
The Contalmaison Cairn.