McCrae's Battalion Trust Shop
The Hearts and the Great War
by John McCartney
John McCartney was Hearts secretary/manager in 1914. He spent four long years painstakingly assembling one of the finest footballing combinations in Britain. The players were like sons to him and their loss in the war left him shattered. In 1918 McCartney took it upon himself to prepare the club's official roll of honour. The print-run was short and original copies today are very scarce. It remains one of the most sought-after pieces of sporting memorabilia in the world. McCrae's Battalion Trust has produced a handsome limited edition facsimile with a new explanatory foreword by Jack Alexander.
42 pages
Full colour card cover
Illustrations and pen portraits
ISBN 0-9548523-0-3
£5.00 plus £2.95 post and packing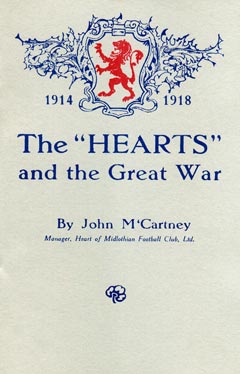 McCrae's Battalion official tie
Designed by Jack Alexander, this handsome tie features the stunning colours of the famous McCrae's Battalion football jersey. See
[McCrae's Battalion Tie]
page for more on this tie.