Baptism of Fire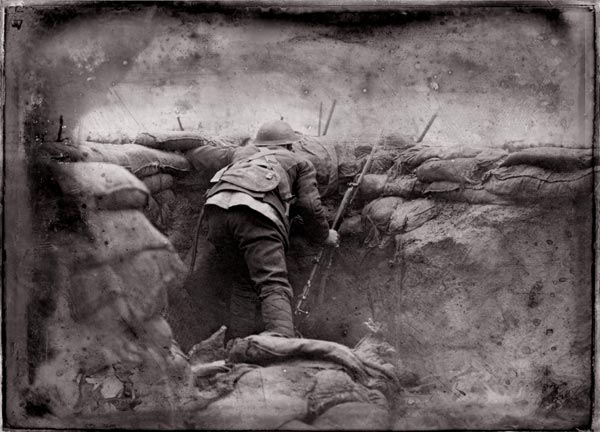 McCRAE'S DISEMBARKED at Havre with the rest of 34th Division on 7 January 1916. Initially they were sent to a supposedly 'quiet' sector, just south of the border town of Armentières. The 'Bois Grenier Line' (named after a front-line village) was composed of shallow trenches, protected by sand-bagged breastworks, piled high and in need of constant repair from enemy shelling. Duckboard floors were concealed beneath several inches of stinking, treacherous mud. All ranks were warned to be careful: German snipers were exceptionally vigilant.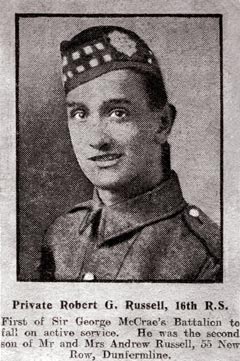 McCrae's moved into the line on the Kaiser's birthday – 27 January – and were welcomed by the heaviest bombardment ever seen in the sector. More than 2,000 shells crashed down but only one man was wounded. The following morning the bombardment resumed and 19-year-old Private Robert Russell from Dunfermline became the battalion's first fatality. Improbably, he was a nephew of the Colonel's late wife. He was buried by his pals in the local cemetery.
During their spell in the north McCrae's lost 8 men killed and around 20 wounded. Death was still uncommon enough to shock, and it's plain from battalion letters that no one was prepared for the killing times to come. On 14 April they marched to the village of Houlle, near St Omer, for a fortnight's training. Lieutenant Harry Rawson was a platoon commander in 'D' Company. 'I think we are getting ready for a show,' he wrote to his uncle. 'I don't know where (and I couldn't tell you if I did), but I know that when it comes we will be ready. The boys are spoiling for a scrap and I think they'll prove a handful for the Hun.'
They were headed for the Somme.