Centenary Pilgrimage 2016 to Contalmaison.
In 2004 we completed the last of the official Great War Memorials, when we unveiled the McCrae's Battalion memorial cairn in the Somme village of Contalmaison. The cairn was originally proposed by veterans of the battalion in 1919 but for a variety of reasons they never managed to get it built.
Since 2004 Contalmaison has become a place of pilgrimage – particularly for schoolchildren, who are drawn to the story of young sportsmen (not much older than themselves) who sacrificed their lives. Our annual ceremony of Remembrance is now one of the 'keystone' events in the Département of the Somme's official programme. The Contalmaison project is a fine example of Scottish excellence abroad and the village itself is recognised in France as 'un petit coin de l'Ecosse' – a little corner of Scotland.
The Somme Centenary falls on Friday 1 July 2016 and Contalmaison has again been classified as one of the principal ceremonies of what promises to be a long and memorable day. We expect a substantial turn-out – including senior governmental representatives from Britain, France and the Commonwealth. As usual, our travelling party will include veterans, school students, battalion families, football followers and young soldiers recovering from injuries.
Due to the worldwide interest in the Centenary programme, we anticipate that our 2016 pilgrimage will be heavily oversubscribed. We have already secured accommodation for our group but demand for beds in Picardy is such that we are unable to add substantially to our guaranteed number. Most hotels within easy reach of the area are already full.
This year, therefore, McCrae's Battalion Trust is issuing for the first time an 'application form' to determine the numbers who wish to participate in the official pilgrimage and to ensure equal treatment for all applicants.
Download your form here: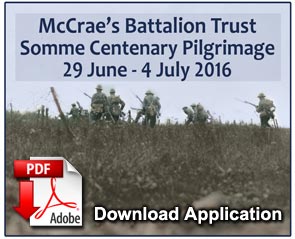 Application Forms must be returned by post. The deadline is 30 November 2015 and late applications may not be considered. On receipt of applications the organisers will determine final numbers. Successful applicants will be informed soon after 31 October, when a deposit will also be requested. Only on receipt of your deposit will your place on the 2016 pilgrimage be secured.
At the moment we are finalising the costs of travel and accommodation along with the official itinerary, which will be provided to successful applicants before the deposit is due.