More Golf Clubs Join Up!
McCrae's Battalion Trust is pleased to announce that two more golf clubs have announced the adoption of an annual McCrae's Battalion memorial competition. Broomieknowe and The Musselburgh Golf Club join Glencorse Golf Club by including a McCrae's Trophy in their fixture list for 2014. Glencorse paved the way in 2007 with the first McCrae's Trophy, played in memory of the battalion's famous Penicuik Platoon and (specifically) local gamekeeper, Lance-Corporal John Cleghorn, who was killed at Arras in 1917. John's nephew, Ivor Ramsay, was a member of the Glencorse committee at the time.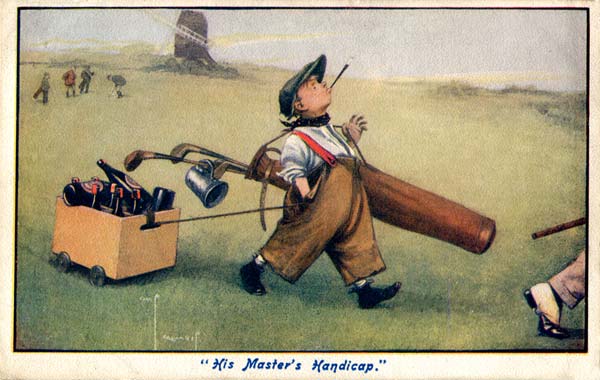 For the past seven seasons the Glencorse competition has raised around £400 for McCrae's Battalion Trust – monies that have been used to help subsidise the cost of including veterans and young recovering soldiers in our annual Contalmaison pilgrimage. Broomieknowe and Musselburgh are welcome additions to the ranks and we look forward to developing our friendship with them in the future.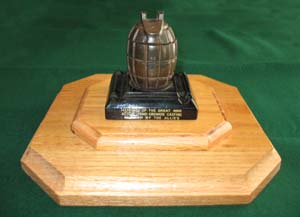 We supply the trophies – authentic examples of Great War 'trench art' – and Ivor Ramsay (who is a gifted woodworker) crafts equally handsome plinths, to which we will affix a bespoke brass plaque with your club's name on it. They'd be a distinctive and timely addition to any trophy cabinet and we'd be happy to speak to any clubs that might be interested in 'enlisting'.
Remember that although McCrae's is primarily associated with football, it was known at the time as Scotland's 'sporting' battalion. Sportsmen and athletes of all sorts were represented in the muster roll – not least golfers. Sir George McCrae himself was a member of both North Berwick clubs (and Bruntsfield Links), while the noted professional Arthur Grant (whose family is part of East Lothian's golfing aristocracy) was a member of A Company. A full list of golf clubs with known links to McCrae's is appended below:
Barnton
Boroughmuir
Braid Hills
Broomieknowe
Bruntsfield Links
Dalkeith and Newbattle
Dalmahoy
Duddingston
Daniel Stewart's
Dunbar
Dunfermline (Halbeath)
Glencorse
Harburn
Heriot's
Kilspindie
Kinesswood
Kinghorn

Kingsknowe
Kirkcaldy
Leith Links
Liberton
Lothianburn
Merchiston
Moortown (Leeds)
Murrayfield
Musselburgh (Monktonhall)
North Berwick
Oakdale (Harrogate)
Royal High
Royal Musselburgh
St Andrews
Tantallon
The Glen
Watsonians

Any golfers who'd like more information on joining McCrae's Battalion Trust's commemorative golf initiative are welcome to contact us.