McCrae's Battalion Trust Ambassador
McCrae's Battalion Trust is pleased to announce that Scotland international and Hearts legend John Robertson has agreed to become the charity's first Football Ambassador.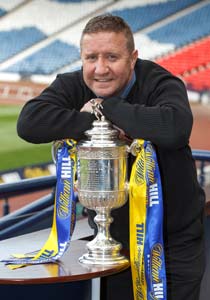 As we approach a series of Great War centenaries, the village of Contalmaison and its distinctive Scottish cairn will be at the centre of international attention. John Robertson is an articulate, knowledgeable and widely respected member of Scotland's football community; we can't think of anyone more suitable to represent the memory of the men who carried the standard of that community to the killing fields of France and Flanders.
'Everyone knows about the strong bond that exists between Hearts and the Royal Scots,' says John. 'We must never forget that the Hearts lads, together with their friends from other teams like Raith Rovers, Falkirk and Hibernian, were responsible for saving the reputation of professional football in Great Britain. The consequences of their enlistment were both inspiring and ultimately tragic. I'm proud to be involved in commemorating their sacrifice and I would encourage football folk of all colours to support this worthy cause.'