McCrae's Battalion Centenary 1914-2014
One hundred years to the night…
Supporting Help for Heroes and Poppy Scotland
Usher Hall
Edinburgh
Friday 28 November 2014
'Somewhere in France – with love from the trenches'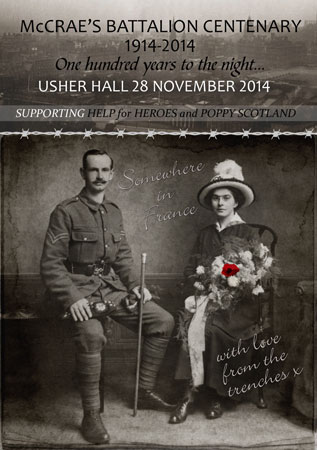 On Friday 27 November 1914 a grand public meeting was held in the Usher Hall to inaugurate Lieutenant Colonel Sir George McCrae's new Active Service battalion of the Royal Scots. The evening remains one of the most memorable and emotional moments in Edinburgh's long history. By midnight three hundred volunteers had stepped forward – among them thirteen players from Heart of Midlothian Football Club and fellow professionals from Raith Rovers, Falkirk, Hibernian, Dunfermline and East Fife.
Sportsmen and supporters from countless other fields joined them and within five days the roll was full. Scotland's sporting battalion went on to win undying fame on the killing fields of the Western Front, carrying Edinburgh's name with pride and distinction, but at a terrible cost. More than a thousand officers and other ranks perished in the war. Many of them – including most of the Hearts players – have no known grave.
On Friday 28 November 2014 Edinburgh will remember McCrae's Battalion with a poignant evening of music, drama, song and previously unseen contemporary images. The distinguished actor Ken Stott will act as narrator.
All profits will be divided between the military charities, Help for Heroes and Poppy Scotland. In effect, the lads of 1914 will be helping their counterparts in today's armed forces cope with the injuries sustained on active service in Afghanistan and other theatres. The same dreadful injuries as those sustained on the Western Front – and at the same age.
The life of a soldier has not changed much these past hundred years. McCrae's legacy lies not in the history books, but in a living and breathing form of Remembrance with which everyone can engage.
We hope you'll join us for a very special evening … one hundred years to the night.
Doors open 19.00
Audience seated for 19.30
Tickets available from the Usher Hall
Full price adult £19.14
Concession £15.00
Child £10.00
Adult and Child combination ticket £25.00